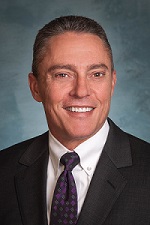 Seeking to Build, Manage & Preserve Wealth
Rich entered the financial services industry in June, 1987, under his father who had been in the business since 1960. His primary focus has been in the retirement planning market, but he also has considerable experience and knowledge in the areas of business planning, estate planning and employee benefits.
Rich's father taught him the most important fundamentals to be successful in the business: "Always be honest and do the right things for your clients and success will come."
To this day, Rich remembers his father's words and believes that this is what has propelled him to where he is.
Our primary purpose is to help you seek to build, manage and preserve wealth.
An employee stock ownership plan may be a tax-friendly way for retiring small-business owners to pass the reins to employees.

This article features a worksheet to help you estimate the savings you might need to generate your desired retirement income.

Do you know your personal tolerance for market risk? Here are three key questions that may help you find out.

How does a traditional or Roth structure affect your IRA or employer-sponsored retirement plan? And what do their differences mean for older workers?
Use this calculator to determine whether you qualify for the different types of IRAs.

Use this calculator to estimate the federal estate taxes that could be due on your estate after you die.

Estimate the annual required distribution from your traditional IRA or former employer's retirement plan after you turn age 72.